3 new products and 2 featured products from Radio Archives this week!
All new and featured products are discounted 50% the first week.
All of our OTR sets and Audiobooks
are available as Audio CDs.
To order Audio CDs, try our new voicemail ordering system at 800-886-0551. Audio CDs of products in this newsletter are discounted 50% for the first week.
Featured: previously released

A good story is a good story, whether it was written two weeks ago, two decades ago, or even two centuries ago. And nowhere is that truer than in

"The Weird Circle"

, a half-hour anthology series that was first aired back in 1943.

The stories offered by "The Weird Circle" were generally adapted from popular fiction - popular fiction of the 19th century, that is. And since the focus was on horror and suspense, the macabre, atmospheric, and often ironic tales of such writers as Edgar Allan Poe and Honore de Balzac were a staple of its success. Also included were such familiar chestnuts as "Wuthering Heights" by Emily Bronte, Charles Dickens' "The Queer Client", Charlotte Bronte's novel "Jane Eyre" (also a particular favorite of Orson Welles and his Mercury Theater company), and "The Strange Case of Dr. Jekyll and Mr. Hyde" by Robert Louis Stevenson. Stories of this vintage, rooted in the Victorian attitudes and morality of the 1800s, generally made for good radio drama; they were, after all, classics, familiar to anyone with a public school education. The primarily first-person narrative of most of the stories chosen made them relatively easy to convert into script form, too: introduce a narrator, establish the scene, and then carry on with the plot. And, of course, since they were out of copyright, there were no literary rights to be paid -- a sizeable cost savings for any producer looking to budget a weekly series, then or now.

"The Weird Circle" was produced in New York City by the National Broadcasting Company, under the auspices of its Radio-Recording Division. Though best known for live programs over its Red and Blue Networks, NBC produced and recorded a great many shows for syndication to local stations, including such diverse dramatic programs as "Playhouse of Favorites", "Five Minute Mysteries", "Destiny Trails", and "Betty and Bob" (a five-a-week daily "soap opera" featuring Arlene Francis), as well as quarter-hour musical programs starring performers ranging from Carson Robison and his Buckaroos to Ferde Grofe and his Orchestra. The quality of these syndicated shows was, for the most part, consistent with NBC's regular prime-time fare and, a result, were often aired by local stations as either special features or programmed between other shows on the network at the time.

Compared with other syndicated thriller/mystery series produced at the same time, it's clear that the producers of "The Weird Circle" aimed a little higher than the norm. The budgets for the series, though no more generous than any similar series produced for the syndication market, benefitted greatly from the technical staff and state-of-the-art facilities which NBC maintained at their Rockefeller Center headquarters. The series featured no stars but, instead, drew upon the adept, adaptable, and highly professional performers who regularly appeared in supporting roles on live network broadcasts - actors like Audrey Totter, Lawson Zerbe, Chester Stratton, Walter Vaughn, Eleanor Audley, and Arnold Moss, to name just a few. And, rather than relying on contracted writers to grind out inexpensive "pulp" stories in a contemporary vein, this series relied instead upon tried and true material from well-known and well-read authors, giving "The Weird Circle" a definite touch of class.

Heard today, it's interesting to note how contemporary many of these stories still sound to modern listeners. "The Tell-Tale Heart", first published in 1843, remains one of Edgar Allan Poe's best short stories, revolving around the timeless themes of obsession, murder, and guilt. Mary Shelley's "Frankenstein, or The Modern Prometheus," dating from 1818, was one of the first novels to deal with science's perilous but often irresistible urge to play God -- as well as the dire consequences of doing so. "Murder of the Little Pig", based on a story by Emile Gaboriau, offers the tale of a detective who finds that the only witness to a crime is a dog! Lesser known stories by such well-known authors as Nathaniel Hawthorne, Sir Walter Scott, and the oft-neglected Edward George Bulwer-Lytton would later be adapted for radio by such popular anthology series as "Suspense" and "Escape".

In this second Radio Archives collection, you'll hear twenty more broadcasts from "The Weird Circle", just as originally aired in 1944.

As an extra bonus, we've uncovered the transcription disc containing the original openings and closings of the shows, allowing you to hear these programs in their original as-broadcast format for the first time in decades.

If you're familiar with some or all of the stories offered in this series, Radio Archives is sure you'll enjoy revisiting your favorites in a different form. If you've read only a few of these stories - or, better still, if you've never read any of them - we promise that you're in for a real treat.

So, bell keeper! Toll the bell, so that all may know that we are gathered again in...the Weird Circle!
Featured: previously released
Radio Preservation has always been at the core of Radio Archives. This exciting series is derived from our massive collection of thirty thousand radio shows from 16" transcription discs.
This 20 hour collection includes shows from the classic days of Radio. You'll find rare and obscure as well as mainstream radio shows from the 1930s, 1940s, and 1950s in the Radio Archives Treasures sets.
These shows have all been restored with state-of-the-art CEDAR technology - the audio processing system used by major recording companies to restore older recordings. We expect the shows to be the best sounding copies available anywhere.
Radio Archives Treasures
are restored to sparkling digital quality.
Volume 4 includes shows from these series.
Deadline for Danger, Chandu the Magician, Melody Ranch, NBC 30th Anniversary Program, The Sad Sack Show, The Philip Morris Playhouse, Death Valley Days, 10-2-4 Ranch, Hawaii Calls, Manhattan Merry-Go-Round, Pot O' Gold, The Man From Homicide, Exploring Tomorrow, and Darling & Dearie.
Out of the night comes a menacing winged figure! Blind district attorney Tony Quinn takes his battle for justice from the courtrooms to the streets, battling evil as The Black Bat!
The shadow of wealthy empire-builder J. Perry Wade hung over a series of revolting crimes — and sent Tony Quinn on the trail of a shocking conspiracy! The discovery of a murder map provides the key to a grim secret of sinister treachery!
It was not unusual for Pulp heroes to have allies, a team even to back up them up in battles and to provide both exposition and even humor when necessary. This is especially true in series, where supporting cast often became even more fleshed out than the hero himself. In most cases, these characters were male and specifically qualified by some expertise to be working with the Hero. The Black Bat was one of a handful of characters that diverted from this stereotype, making a woman a primary part of his supporting cast.
Carol Baldwin served more than one purpose in The Black Bat stories. In her first appearance, she is undercover in a gang, which criminal involvement is sort of a theme for The Black Bat's allies. This gives her a usefulness to Tony Quinn in his campaign against criminals, but she also provides something even greater. She is undercover and comes into contact with Quinn all for the same reason, as a tribute to her deceased father, a policeman. Not only is Carol carrying on her father's own crime fighting, but she is also the one who insures that her father's final wishes are carried out and his eyes are donated to science. This results in Tony Quinn receiving her father's eyes in an experimental surgery and gaining the ability to see in the dark. Carol Baldwin is an ally to The Black Bat and a main reason the character has the ability to fight crime as he does.
Thrill to Riddle of the Dead Man's Bequest, originally published in Black Book Detective #84 March 1949, and read with two fisted excitement by award winning voice actor Milton Bagby.
Radio Archives Pulp Classics
Total Pulp Experience. These exciting pulp adventures have been beautifully reformatted for easy reading as an eBook and features every story, every editorial, and every column of the original pulp magazine.
Black Book Detective magazine was probably best known for its long-running series of adventure stories featuring the crimefighter known as The Black Bat. But The Black Bat didn't appear until six years into the magazine's run with the July 1939 issue. The magazine first hit the newsstands with the June 1933 issue. For the next six years, it tried different approaches. Issue one began with a featured novel and several backup short stories. The following year it started promoting "three new complete novels" in each magazine, but abandoned that approach after four issues. It then tried shorter novelets, combined with short stories. In 1935 and 1936, it tried the "weird menace" approach, featuring scantily-clad women in peril on the covers, then switched back to hard crime. In 1938 they tried featuring recurring characters in their main novel. Gentleman thief Raffles appeared in two consecutive issues. Jonathan Drake, Ace Manhunter appeared in three issues.
The editors struck gold with The Black Bat, who first appeared in the July 1939 issue. Supposedly blind District Attorney Tony Quinn was secretly the master crime fighter known as The Black Bat. The stories were credited to the house name of G. Wayman Jones, but in actuality were written mainly by Norman A. Daniels. The Black Bat stories ran exclusively in the bi-monthly Black Book Detective magazine until it finally printed its last issue in the Winter of 1953. Black Book Detective returns in these vintage pulp tales, reissued for today's readers in electronic format.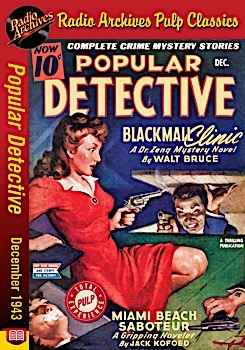 Radio Archives Pulp Classics
Total Pulp Experience. These exciting pulp adventures have been beautifully reformatted for easy reading as an eBook and features every story, every editorial, and every column of the original pulp magazine.
Thrills, mystery and action! Popular Detective magazine really lived up to its name. It was one of the longest running detective pulps and contained some of the best of detective fiction around. November 1934 saw the inaugural issue, coming from Better Publications, the publisher of all those Thrilling pulps... Thrilling Detective, Thrilling Mystery, Thrilling Western, Thrilling Adventures, Thrilling Wonder Stories and many others without the word "Thrilling" in the title, as well. The Black Bat, Captain Future, The Green Ghost, the Phantom Detective... all these were from Better Publications. Popular Detective was offered monthly until 1938, then bi-monthly. And within those 128 pages, could be found authors like C.K.M. Scanlon, Frederick C. Painton, L. Ron Hubbard, Johnston McCulley, Leslie Charteris, and many others of top-notch talent. The magazine finally folder in the fall of 1953, after an amazing 133 issues of quality detective fiction. Popular Detective returns in these vintage pulp tales, reissued for today's readers in electronic format.
---
Radio Archives Pulp Classics line of eBooks are of the highest quality and feature the great Pulp Fiction stories of the 1930s-1950s. All eBooks produced by Radio Archives are available in ePub and Mobi formats for the ultimate in compatibility. If you have a Kindle, the Mobi version is what you want. If you have an iPad/iPhone, Android, or Nook, then the ePub version is what you want.
Ian from Pennsylvania writes:
Master of Men vs a Monster Among Men! This audiobook was sent to me as a complimentary taste of Radio Archives' unique pulp audiobooks through an offer in the back cover of Doc Savage...and that taste was goldenly delicious! First on the format: Mr. Santa Maria is an incredibly talented voice actor, bringing life and depth with his voice to the Spider/his foes/allies/side characters! RA has clearly invested much in their recordings; I was kept in suspense whether on the road or walking my dogs! Storywise: This tale includes all the traits of a dazzling Spider adventure! Widespread panic, seemingly inescapable traps, an inhuman foe who deliberately disables innocent people (talk about body horror)! You get everything a pulpster would thirst for! All I said after listening to this: bring on the next course of adventure, Radio Archives!
If you'd like to share a comment with us or if you have a question or a suggestion send an email to Service@RadioArchives.com. We'd love to hear from you!
---
Email The easiest way is to Reply to this newsletter with what you would like and we'll place your order for you. Payment information will be sent to you.
Voicemail Call 800-886-0551 to leave a message or to order Audio CDs.
Having troubles ordering from the website?
The Radio Archives Newsletter is emailed every Friday morning and features all the NEW products released by Radio Archives! The products in this newsletter are just a small fraction of what you'll find waiting for you at RadioArchives.com. Whether it's the sparkling audio fidelity of our classic radio collections, or the excitement of our pulp audiobooks and pulp eBooks, you'll find twenty three hundred intriguing products at RadioArchives.com.
If you no longer wish to receive our newsletter, or if this newsletter has been sent to you in error, please click here to Unsubscribe and your name will immediately be removed from our mailing list.