2 new products and 5 featured products from Radio Archives this week!
All new and featured products are discounted the first week.
Radio Archives
Subscription for 36,000 RAW WAV files
We are excited to announce the Transcription Disc Transfers subscription program.
For Serious OTR collectors only.
Have you ever wished you could own the same library of radio shows that Radio Archives has? Now you can. We will be delivering the first 600 files soon. Subscribe today before the 50% Early Bird price goes away.
Featured: previously released
A precedent-shattering radio landmark that became a national institution -- its influence is with us yet. And now Radio Archives is proud to take you back to the very beginning, with a second volume of exciting broadcasts from the very first season of Jack Webb's police procedural classic Dragnet.

Police procedurals go back long before "Dragnet's" 1949 premiere -- with an especially strong heritage in Los Angeles. Private Investigator Nick Harris presented dramatizations drawn from his own true-life case files as far back as the 1920s, and the Los Angeles Police Department itself collaborated closely with Don Lee Network producer William N. Robson for the long-running 1930's series "Calling All Cars." But these formats fell from favor by the 1940s, with the advent of the "hard boiled dick" genre of crime programs. An ordinary policeman just doing his job had little chance against the legions of smart-mouthed gumshoes parading across the ether during the postwar years.

But inevitably, that genre collapsed under the weight of its own clichés -- and when "Dragnet" premiered in 1949 it was a breath of fresh air. No wisecracks, no impossibly exaggerated characterizations, no too-purple-for-belief dialogue, just a dedicated law enforcement officer, determined to do his job as completely and as thoroughly as possible. Joe Friday is one of radio's great Everyman figures -- just another workaday guy in a cheap suit, trudging thru his daily routine -- but in Webb's hands, the characterization takes on a fascinating edge of realism. The deliberately-low-key direction and the stylized flat-voiced delivery of the supporting cast adds to this downbeat, it's-really-happening style, giving "Dragnet" a feeling and a mood unlike that of any other radio program of its era.

Programs included in this second Radio Archives collection are from the first season of the program's run and date from December of 1949 thru May of 1950. It's interesting to note that the essential feel of the series was there from the very beginning of the run: the quiet byplay between Friday and his partner Ben Romero (expertly played by radio veteran Barton Yarborough), the meticulous documentation of the unfolding case, and the careful pacing of each episode as it builds slowly but steadily to a climax. The supporting players are drawn from the ranks of top radio talent, including such performers as Frank Lovejoy, Parley Baer, Hans Conried, and Raymond Burr, and the production values -- layering sound upon sound -- are of astonishing proficiency. It's a collection that shows you just how powerful, just how creative, and just how fascinating American radio drama could be when it found itself in the hands and mind of a master.
Featured: previously released

Radio Preservation has always been at the core of Radio Archives. This exciting series is derived from our massive collection of thirty thousand radio shows from 16" transcription discs.
This 20 hour collection includes shows from the classic days of Radio. You'll find rare and obscure as well as mainstream radio shows from the 1930s, 1940s, and 1950s in the Radio Archives Treasures sets.
These shows have all been restored with state-of-the-art CEDAR technology - the audio processing system used by major recording companies to restore older recordings. We expect the shows to be the best sounding copies available anywhere.
Radio Archives Treasures
are restored to sparkling digital quality.
Volume 20 includes shows from these series.
The Big Show, The Hall of Fantasy, The Lux Radio Theatre, Xavier Cugat Show, A Voice in the Night, Jimmie Grier and His Orchestra, Mr & Mrs North, The Victory Parade of Spotlight Bands, The Man on The Farm, One Night Stand, The Cavalcade of America, The Line-Up, The Grantland Rice Story, The Bing Crosby Show, One World Flight, Retribution, Paul Whiteman's Musical Varieties, His Master's Voice of the Air, The First Nighter Program, Plays for Americans, Personal Album, and Front Page Drama.
Featured: previously released
by Frederick C. Davis writing as Curtis Steele

Before James Bond was ever imagined, Jimmy Christopher was the bravest, boldest and best-equipped secret agent any nation ever had!
Invisible, secret, deadly, the Masked Empire wielded its dread power of darkness throughout the nation. Havoc and ruin followed the terror-torn thousands who fled the country to escape the Thirteenth Darkness. America, faced with certain disaster, placed her chance of survival in one man's capable hands — and prayed that the warrior gods might smile once more upon the miracle man of her Secret Service — Jimmy Christopher!
In 1934, with Hitler consolidating power in Germany and the Japanese Empire on the rise in Asia, young pulp publisher Harry Steeger decided that the American public was ready for a magazine chronicling the exploits of an undercover agent dedicated to defending the United States from foreign aggressors. With his editors, Steeger came up with a title,
Secret Service Operator #5
, and a cover depicting a masked terrorist fleeing an exploding White House. Over this loomed the resourceful hero, blazing away with a .45 automatic. His job: to defeat a new invasion of the United States—every month!
James Christopher did not technically belong to the U. S. Secret Service. He was a top agent for an America's unnamed Intelligence Service. It was in his blood. His father, John Christopher, retired from the same agency years before. Answerable only to his superior, Z-7, and carrying a letter from the President of the United States identifying him as Operator #5, Jimmy Christopher played for keeps. He carried a rapier sewn into his belt, and in a golden skull hanging from his watch-chain was a reservoir of poison to be taken in the event of capture.
Into this unprecedented crisis plunged Jimmy Christopher. Only one man, but a man who embodied the American spirit—and stands prepared to perish to protect his country.
From the April, 1934 issue of Operator #5 magazine comes The Masked Invasion. Read by Richard Epcar.
5 hours - MP3 regular price $9.99
Featured: previously released
The Corpse Cargo
by Norvell W. Page writing as Grant Stockbridge

Thundering far beneath Manhattan's thronging streets came the Death Express — a crack New York Central train bearing a gruesome cargo of lifeless men, women and children — their bodies stripped of valuables, naked and mutilated! A grim warning of the terror-reign that threatened America — at the hands of Twentieth Century land-pirates, whose weapon was neither gun nor sword, but the stunning, body-shivering force which lies in electricity! Can the Spider, using mortal weapons, fight the numbing power of the thunderbolt — and survive?
During his ferocious first year fighting crime, The Spider faced the most amazing array of supercriminals ever spawned. The Black Death. The Red Mask. The Tarantula. The Fly. Few were as memorable as the 20th Century corsair called Captain Kidd. She—yes, she!—embarked on a campaign of cruelty unmatched in pulp history.
It began with the torture-killing of a innocent young boy—a loyal member of the Spider Club. The weapon employed was a knife with eerie electrical properties. Discovering the hapless body, Richard Wentworth vowed to avenge this insult to The Spider's power.
But Captain Kidd struck first! When a train roars into Grand Central Station, out of control and crashing to a brutal halt, authorities discover that everyone aboard, from the engineer and crew to the passengers, are cold corpses—electrified by a weird new weapon called the Green Fire!
Out of this rolling charnel house come the first clues to the Pirates—a roving band of modern-day buccaneers out to pillage greater New York. At their head, the deadly woman who has taken the feared name of Captain Kidd.
Nick Santa Maria once again brings the Spider to life in The Corpse Cargo. Originally published in The Spider magazine, July 1934.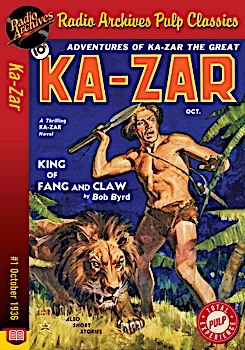 Radio Archives Pulp Classics
Total Pulp Experience. These exciting pulp adventures have been beautifully reformatted for easy reading as an eBook and features every story, every editorial, and every column of the original pulp magazine.
Ka-Zar the Great, powerful lord of the jungle, was probably better known for his appearances in Marvel comic books. But it all started with the pulps. Manvis Publications, the publishers of Red Circle Magazines, came out with the first issue of Ka-Zar in October 1936. Editor Martin Goodman was the creator, and wrote the stories behind the pseudonym of Bob Byrd. Ka-Zar was very similar to the Edgar Rice Burroughs character of Tarzan, which debuted in 1912. It wasn't the first of the Tarzan clones, and it wouldn't be the last. But the jungle lord had a certain appeal that allowed him to move to Marvel Comics in 1939. The character later appeared in Marvel Mystery Comics and The Human Torch. Its pulp origins, however, were sadly brief. There were only three issues of Ka-Zar to hit the newsstands, the final one being June 1937. Ka-Zar returns in these vintage pulp tales, reissued for today's readers in electronic format.
Radio Archives Pulp Classics
Total Pulp Experience. These exciting pulp adventures have been beautifully reformatted for easy reading as an eBook and features every story, every editorial, and every column of the original pulp magazine.
In the late 1930s, weird menace magazines gained surprising popularity. Mystery Tales was one of several in the genre from "Red Circle" magazines, aka Western Fiction Publishing Co. Mystery Tales began with its March 1938 issue. Other magazines in the Red Circle line were Star Detective, Uncanny Tales, Marvel Stories, and a huge catalogue of western, mystery, detective, sports and romance pulps. The horror and terror tales were famous for their lurid covers... at least by 1930s standards, that is. By 1940, the interest in the shudder pulps was lessening, and Mystery Tales closed its ninth and final issue in May 1940. Mystery Tales returns in these vintage pulp tales, reissued for today's readers in electronic format.
Featured: previously released
Radio Archives Pulp Classics
Total Pulp Experience. These exciting pulp adventures have been beautifully reformatted for easy reading as an eBook and features every story, every editorial, and every column of the original pulp magazine. As a special bonus, Will Murray has written an introduction especially for this series of eBooks.
Another epic exploit of America's best-loved pulp-fiction character of the 1930s and 1940s: The Spider — Master of Men! Richard Wentworth — the dread Spider, nemesis of the Underworld, lone wolf anti-crime crusader who always fights in that grim no-man's land between Law and lawless — returns in vintage pulp tales of the Spider, reissued for today's readers in electronic format.
---
Radio Archives Pulp Classics line of eBooks are of the highest quality and feature the great Pulp Fiction stories of the 1930s-1950s. All eBooks produced by Radio Archives are available in ePub and Mobi formats for the ultimate in compatibility. If you have a Kindle, the Mobi version is what you want. If you have an iPad/iPhone, Android, or Nook, then the ePub version is what you want.
The Bargain Basement is where you find all the discounted Audio CDs including everything featured in this newsletter.
---
Comments From Our Customers!
Shadow of Fu Manchu. I'm building my collection of OTR. The quality of Radio Archives' digital files is excellent, and they make it so easy to download as I get acquainted with "new" shows. I especially like that they save records of my purchases online, making it easy to download again to another laptop, or just to make sure I have downloaded all of my files. You can't go wrong with Radio Archives!
Spider ebook. Wonderful service and product.
If you'd like to share a comment with us or if you have a question or a suggestion send an email to Service@RadioArchives.com. We'd love to hear from you!
---
3 ways to order
Email The easiest way is to Reply to this newsletter with what you would like and we'll place your order for you. Payment information will be sent to you.
Voicemail Call 800-886-0551 to leave a message or to order Audio CDs.
Audio CD ordering information
We offer Audio CDs of all of our Old Time Radio sets and Pulp Audiobooks.
To order
click here for the Audio CD Order Form
or by voicemail at 800-886-0551. All discounted Audio CDs are in the Bargain Basement.
---
Having troubles ordering from the website?
The Radio Archives Newsletter is emailed every Friday morning. The products in this newsletter are just a small fraction of what you'll find waiting for you at RadioArchives.com. Whether it's the sparkling audio fidelity of our classic radio collections, or the excitement of our pulp audiobooks and pulp eBooks, you'll find 2,300 intriguing products at RadioArchives.com.
If you no longer wish to receive our newsletter, or if this newsletter has been sent to you in error, please click here to Unsubscribe and your name will immediately be removed from our mailing list.